Saturday, October 31, 2009
Love,
Samantha,
Madison,
Tilghman,
and Kaylee (who is still available for adoption!)
Posted by

Southern Aspirations
at 6:55 AM
7 comments:


Thursday, October 29, 2009
As a new blogger, I was unaware of
Mrs. Blanding's
request for bloggers to post about Pink on October 1 for Breast Cancer awareness. Had I known, I would have happily participated! But as we close out the month, I wanted to take a moment to post my Pink Blog.
While I love all the awareness and support around Breast Cancer, I admit I feel a little disillusioned by how the pink ribbon has turned into a money making campaign. Again, great to raise support... but I worry that the real message sometimes gets lost in the "cuteness" or the shopping.
Like so many others, my life has been deeply touched by breast cancer and I wanted to share my story. First, the survivor story.
My grandmother successfully battled breast cancer twice. I think I was too young the first go-round to really remember anything, but I do remember visiting her in the hospital after her second operation... not really understanding why Grandmother was in the hospital, or what was truly wrong, but hearing that it was something related to cancer and that it was Big and Scary. Over time, aided my my family's move next door to my grandparents, I developed a much richer and deeper relationship with my grandmother. And thought I understood how she beat breast cancer. Honestly, was there anything she couldn't beat?
Fast forward many years and I remember very clearly the telephone call from my mother informing me that my beloved Aunt Jeannette (Aunt Nette), my mother's sister, was diagnosed with breast cancer. Because of our family history, Aunt Nette had a radical mastectomy, chemotherapy, and reconstructive surgery. Always the joker, Aunt Jeannette loved to say how she had gotten her perkiness back (I guess after having four children- all boys- things don't stay quite the same!).
I sympathized with my mom, as I couldn't imagine hearing similar news about my sister. And I cried over my vivacious Aunt. How could she, of all people, have cancer???
After a while, she was cleared and we celebrated. Unfortunately, just a few years later, the cancer had reared its ugly head again, though I believe my aunt kept the news quiet for a while. This was not the first time the family had dealt with cancer- my Aunt and Uncle had lost their third son, Bradley, at the age of four to cancer.
Despite all the treatments, it became clear that Aunt Nette's days on earth with us were numbered. The summer before I started graduate school was the last time I spent with my aunt.
My aunt reveled in the time spent with family and friends as much as she could- especially her new grandson. I remember spending the time trying to soak up all of those little moments, but using much of the time in reflection of our deep and dear conversations over the years-- at my grandparent's farm, in our hotel rooms in Japan (where she and my uncle served as missionaries and I was fortunate enough to have the opportunity to visit), in various kitchens over holidays, etc.
My aunt taught me about sushi, baking batter bread, unconditional love, and taking life in stride- always looking for the good in things. She was a remarkable woman and I think anyone who had the opportunity to know her is a better person for it.
Through the death process, I saw the pain my grandparents endured- there is nothing right or natural about a losing a child (and even at 50-something, she was their child!). I've seen the pain in my cousins' eyes... how hard to lose your mom before all those major life events she's supposed to participate in? I saw the constant and enduring love from my uncle when we were in Hawaii... and I completely broke down and wept.
I've also seen the fear associated with breast cancer. My mom, who is at a higher risk given her mom and her sister. My sister and I-- frequently wondering what kind of risk that puts us at.
After my mom announced she would not do
genetic testing
, I decided this year that
I
would do the gene test, coming to the resolution that if I had the gene, the knowledge would empower me with the ability to make decisions. (Honestly, I had thought it was almost a foregone conclusion that I would have the "breast cancer gene." After all, not only did it run on my mother's side, but also my father's side of the family.)
National Cherry Blossom Festival,
Channels.com
The test results showed that I did NOT have a mutated BRCA1 or BRCA2 gene (reducing the risk of genetic breast cancer). Of course the risk of breast cancer still exists, like with any woman, but for the first time, I felt like I was on an even playing field. I cried for joy. And called my sister.
So now that October has come and largely gone, please remember that the fight continues. Check yourself- and encourage your loved ones to do the same. And remember, a diagnosis is not a death sentence. Empower yourself to fight. And make your life one worth living.
--Emmie
PS- the photos I included today I collected from various geographic locations where my Aunt lived throughout her life. I chose to use nature for my pinks as a reminder to look for the daily beauty and pink throughout the year.
Posted by

Southern Aspirations
at 10:06 PM
11 comments: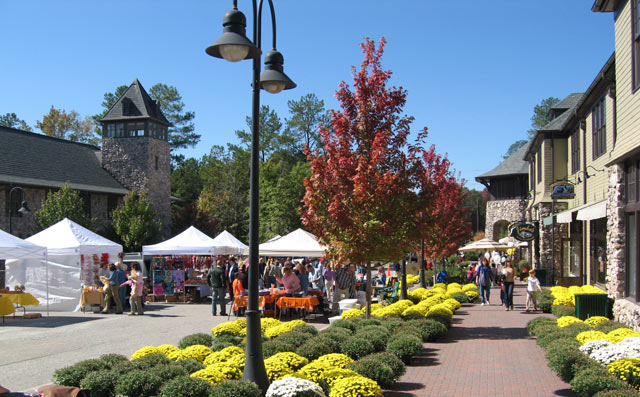 At my dinner the other night, I discovered the "new" old-town style of
Mt. Laurel
. The website describes Mt. Lauren as a "Traditional Neighborhood Development" or one that encompases Smart Growth and New Urbanism. Paraphrasing here a bit, the goal is to "get people out of their cars," provide destinations within walking distances of homes, and create a new town center to hold these amentities.
The 600-acre development is focused on sustainability and reportedly worked to save as many trees as possible; for those unable to save, the development reuses whenever possible. Lights are also designed to "protect the night skies" and provide sufficient light. Given that the skies don't really need protecting (ok, ignoring greenhouse gases, etc.), I assume the design is to allow for stargazing!
Amenities include a Fire Station...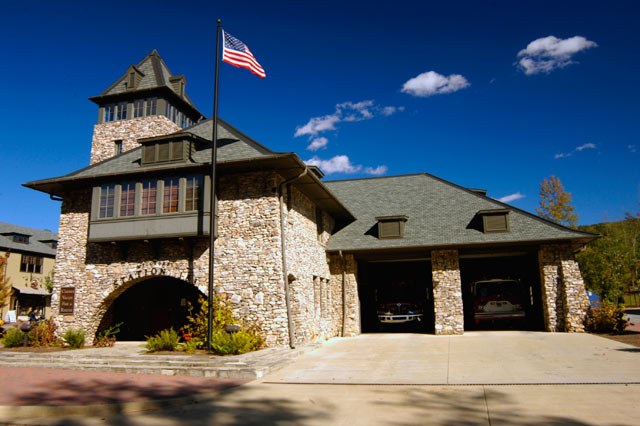 (not a bad-looking fire station!)
Swimable/canoeable (yes, I made those words up) Spoonwood Lake and other outdoor park spaces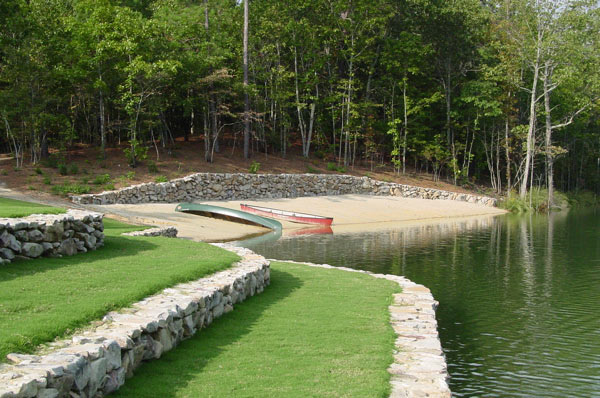 Schools and churches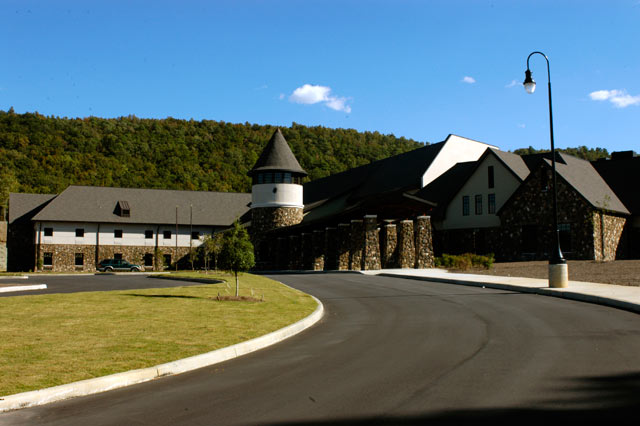 Very cute
shops
(I totally want to check out the little Grocery store and Hardware store, but alas all were closed at 8PM). I also spied a bridal shop (fabulous looking windows), florist, and salon, with fantastic storefronts.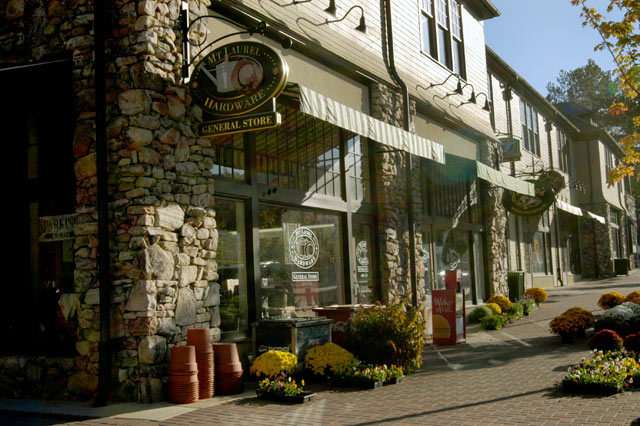 Homes are available in various styles, but most of the development (houses included) is very reminiscent of Craftsman style to me.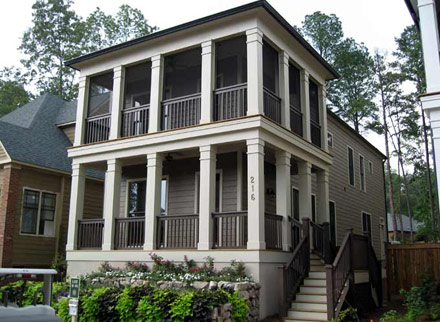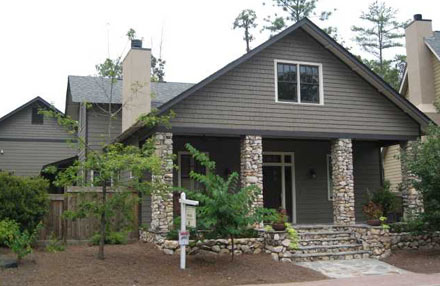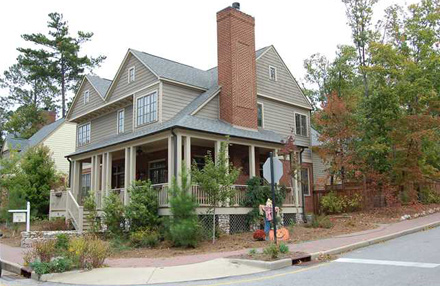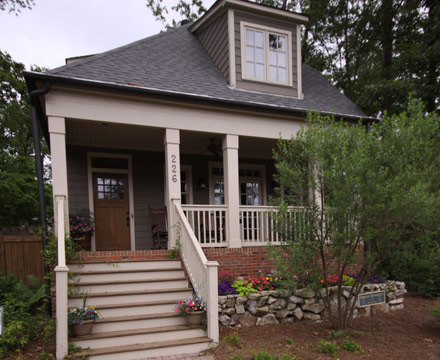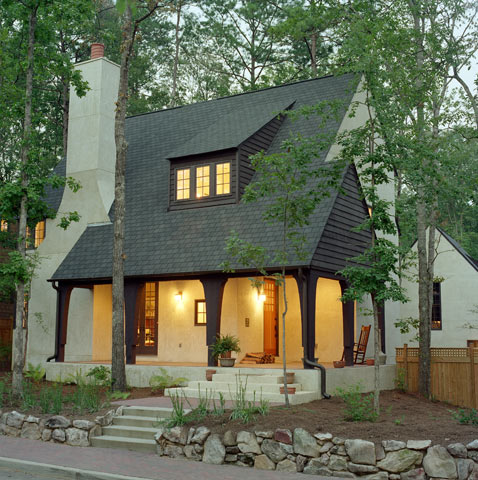 I enjoyed dinner at the
Standard Bistro
, a restaurant serving contemporary Southern cuisine focused on using fresh natural foods like local organic produce and free-frange and organic meats.
The restaurant and surroundings reminded me of
Serenbe
in Palmetto, Georgia, a similarly designed community focused on sustainability. (Note: Serenbe has received tons of press, well deserved IMHO, and rather than toss a few photos in, I'll probably do a full posting in the future. Suffice it to say, if we could afford to give up our jobs entirely and start afresh, I would try to convince Mr. Southern that we needed to move there.)
Interestingly, the Mt. Laurel development is a
Duany Plater-Zyberk and Company
project, led by Andres Duany and Elizabeth Plater-Zyberk, co-founders of the Congress for the New Urbanism. The company has many international projects and has received quite a bit of press for their New Urban community designs.
One project you'd likely recognize is the oft-blogged
Alys Beach Resort
in Florida's Panhandle. I was fascinated to learn that many of the urban developments I've witnessed over the years in various cities were all DPZ projects: Kentlands and Diamond/Summit in Gaithersburg, MD, Legacy in Dallas, TX, Riverside in Atlanta, GA, Providence in Huntsville, AL, downtown Naples, FL, and West Palm Beach, FL. Jean, of
Fine Art Daily
, might be interested to learn that DPZ helped downtown Stuart plan for its future growth and preserve the historic courthouse.
As a city-girl now living in the 'burbs, I'm in love with the idea of being able to walk to places. Mr. Southern, I'm sure, would not like the small yards. And, despite all the great press of sustainability, I'd guess not all of these projects are welcomed with open arms.
For those interested in learning more about urban planning and development, their website has an interesting reading list
here
and
here
. Fellow Atlantan Architecture Tourist has also blogged about New Urbanism
here
and
here
.
What do you think about it?
-Emmie
Note: all photos from DPZ Projects; the lighting was much too dark for my poor photography skills at Mt. Laurel!
Posted by

Southern Aspirations
at 8:20 AM
8 comments:


Tuesday, October 27, 2009
Back to Alabama today to finish the business I didn't get to on my last visit (due to a cold, I cut the trip short). I'll leave you with some sea-inspired home decor options.
Do you know
Karen Robertson
? I admittedly stumbled upon her site after searching for framed sea fans (inspired by
Odi et Amo
).
I adored the designed spaces that greet you as you load her webpage....
Vibrant orange, soothing blues...
And a pop of purple that I actually really like!
Products are offered both Wholesale and Retail. Here are a few that struck my fancy.
Natural and tinted Sea Fans
Map of Paris
Blue Starfish Prints
and Red Coral prints
Black and White Roots (perfect for my dining room- a little farm-to-table reminder)
Fun throw pillows
gorgeous shell mirrors (wonder if I could DIY?)
Framed Shells/Starfish/Sand Dollars
One of the things I love about these pieces is that I don't think you have to have a coastal home to enjoy the look. Which is helpful, considering I live in landlocked Atlanta. :-) My only concern- does it disturb the natural sea life/coral capturing the sea fans? Must investigate.
Have a wonderful day!
-Emmie
Posted by

Southern Aspirations
at 7:18 AM
14 comments: